Before looking into the list of apps let's know what exactly a logo is? A logo is a symbol, trademark of a company, or name of a person/company, and logos are used by the companies as it represents a succinct image of the company. For that reason, we have found the Best Free Logo Maker App For Android.
Nowadays not only the big organizations but many others need their own customized logos like the youtube vloggers, freelancing photographers, and all the small companies. So if you see having a logo is an important factor, it helps people quickly identify you and also looks professional.
There is plenty of logo making apps, some made using drawings and graphic designing apps but not all of them are so creative and skilled to use graphic designing to make their own logos. You can find many app claims they will get you the work done in no time but when you go for it either they charge too much or the claims prove to be false.
Don't worry we are here to help you, we have the list of best free logo maker apps for android India 2021. You can use any of the apps to make a good professional logo for yourself or for others.
Canva – Best Free Logo Maker Android App
Most of us are aware of the app Canva, a social media tool, but only a few know that Canva can also be used to create really amazing professional logos. The drag and drop interface makes it a really amazing app to create a logo in no time, trust us you don't have to be expertise in graphics designing and nor do you need to have a very high level of creative skills. It's really very simple to create a logo from 100 templates to choose from.
At first all you need to do is enter the name of your company to get started, and answer a few simple questions to customize your logo, then you will be asked some questions about your industry and then pick your style from a variety of different options based on your choice and industry.
The best part of Canva is you will get a high-resolution logo at free of cost, and without any knowledge in graphic designing.
Price –
You get various options in the App you can make logos for free of cost and if you want to use the premium facilities then you will have to pay $12.95 per month or $119.49 per year.
Iris Logo Maker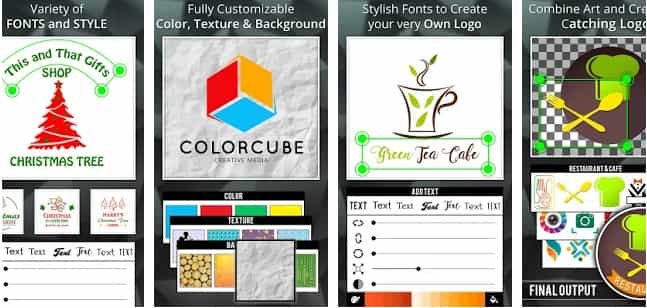 Iris logo maker is a very decent logo maker with very simple features, it is not that complex or tough to use as it has very limited and common features that you can find in almost every logo maker.
The features that Iris studio includes is it has some various shapes to select for the logo, then it gives you the option to choose any color from a wide range, then backgrounds to select, and many more things like textures, stickers, and other graphical elements.
The app does all the work for you all you need to do is just select the combination you want for your logo. You can add text and change the font and make all the necessary changes.
It's very easy and simple to use, the only problem is it gets expensive if you want to use the premium version. It charges a high amount for such basic features otherwise it is very easy and the best app to go for.
Price –
Iris studio comes with various options. You can use it for free and if you want to use the premium facilities then you will have to pay $4.99 per month or $14.99 per year or pay $19.99 once and use it forever.
Z Mobile Logo Maker
It is another simple app on the list, the best solution for people who are looking for a quick way to create a professional logo. You get a clear and blank canvas and then you choose all your desired elements to come up with something you want.
Z Mobile Logo Maker gives you an option of over 100 background images, 3D rotation, textures and overlays, filters, over 100 fonts, and you can also make a transparent background to use it over other graphics.
The free version is really fine to create a basic simple and good logo with a professional look. If you want more advanced features and more options then you can take the monthly subscription to get all of the features.
Price –
Z Mobile Logo Maker is free to use with some basic features and if you want all of the features then you can select the monthly plan which costs $4.99 per month or if you want to take the yearly plan then you need to pay $14.99 per year.
Adobe – Advanced Best Free Logo Maker Android App
Either it is for a PC or a mobile Adobe has powerful apps with really amazing and plenty of features available. If you have time to spare then Adobe can help you create a unique and amazing logo for your business.
Adobe has more options to make for you to make a logo either it be from Adobe Illustrator, Adobe Capture, Adobe Comp. Depending upon your need for features and the time you have you can choose the suitable Adobe app for you.
The app provides so many features even in the free version that you can easily make a good professional app for your company.
Price –
The Adobe app can be used for free but if you want to go for the premium version of the app then you need to pay $52.99 per month.
Hatchful
It is a free online logo maker app that helps you to make logos online, it is really simple and easy to use. Hatchful also allows you to customize your logo based on your choice.
When you enter the app it first provides you with a space and gives you options that your company fits into. When you are done with the selection of the options related to your industry, you will choose your visual style. Then you will be asked to enter your business name and slogan if you have any.
After you have done all the tasks they ask for they will provide you with various options and you can select your preferred logo from it. You can make changes in the font, color, icon, and make an outcome.
Price –
Hatchful is a free app you don't need to pay for.
Logo Maker – Best Logo Maker Android App
Logo maker plus is a popular app to make apps with a professional touch in it. It gives the user a wide range of options and features to make an amazing logo, the user can add graphics, change colors, and do all sorts of other tricks.
Logo Maker Plus comes with a wide range of elements in the free version, where the user can choose from 100 elements, and if you get its subscription then you will get more than 600 varieties of elements and there won't be any ads as well.
The features are really great and effective enough to come up with some neat stuff, and in the paid version you can even make the background transparent which makes the logo look even more professional.
Many professionals who make logos and sell them using the same app, so you can trust the app and go for it. Even the free version is enough if you want a simple looking logo for your brand.
Price –
Logo maker plus has two varieties first the free version, then the monthly paid version where you will have to pay $2.99 – $4.99 per month.
Logo Maker – Best 3D Logo Maker For Android
Logo Maker 3D is an online logo maker where you will get many simple features and a variety of options to make your customized logo in very little time, and the app also gives you elements to give the logo a 3D look.
3D logos look amazing and are very eye catchy, so if you are looking to make a really attractive logo in very little time and very simple steps then you can surely use this app. The app gives you over 5000 Logo templates.
Price –
Logo Maker 3D is a free app but if you want to get the premium version then you will have to pay an amount between $1.36 – $6.84 per month.
Font Rush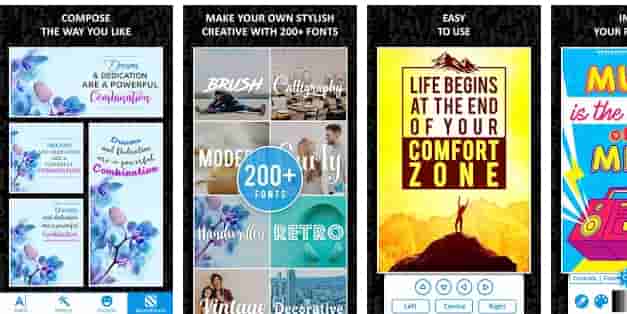 It is a superb tool if you are trying to make a professional logo for your brand. It gives you an option to choose over 200 fonts along with 250 background images to use.
Font Rush has a very simple process so it won't be tough for you to make a great logo in nomtime. The app does most of the work for you all you need to do is select options and make a desirable logo.
It is mostly used for social media platforms so the tools work toward that end, but it has some cool features that you will love while using the app while making logs.
Price –
It is free but to get the premium version you will have to pay $3.99.
Dotpict
Dotpict is a very simple and easy to use app. The app lets its user create their pieces of pixel art very easily and in very little time. Overall it can be classified as a very simple app but with some killer features in it.
Additionally, the app has all the features just like other logo creator apps, and this app also allows you to insert or remove the pixel grid while seeing the final product.
Price –
You can use the app even free of cost but to get a better experience and more features you need to pay $6.49.
The result is based upon the research performed by us. It may have some changes and might be we have missed some  Best Free Logo Maker App For Android so feel free to comment or contact us via the website.
Best Free Logo Maker App For Android – FAQ
You May Also Like:
Best Free Graphic Design Software