We are no longer in the era when a pen, pencil, and sketchbook were enough to show the skills and create astonishing designs. We have selected the Best Drawing Tablets for Adobe Illustrator that you can try now
So this is the reason why we need drawing tablets in our lives. You won't have any hassles for selecting colors, brushes, and shapes to create beautiful designs.
Having a compatible tablet will give you a prominent advantage over the traditional method and over laptops you use for graphic designs. As a creative idea can strike you anytime. You can get an imaginative idea even when you are out at a cafe enjoying your coffee. But owning a tablet will be very useful to you for expressing your creativity in it.
The Adobe Illustrator is the best tool for graphic design in the market right now. It is an expensive software, as the saying goes – Great Things Have Great Cost. The people who don't pay the cost never be great in life. Adobe Illustrator is the choice of all the professionals working as graphic designers. The outcome from adobe is just mesmerizing.
In the above paras, we gave you a short introduction about the need for tables and Adobe Illustrator. Here you can find on what basis we have chosen the devices.
The devices are selected in terms of performance, price segment, popularity, specifications, hardware, screen resolution, and latest software.
You can find tablets in all price segments, but this list is different. This list is for all the people who are foraged for the best drawing tablets for Adobe Illustrator, we have rounded the list for you.
6 Best Drawing Tablets for Adobe Illustrator
1. Wacom Intuos Pro ( Most Recommended )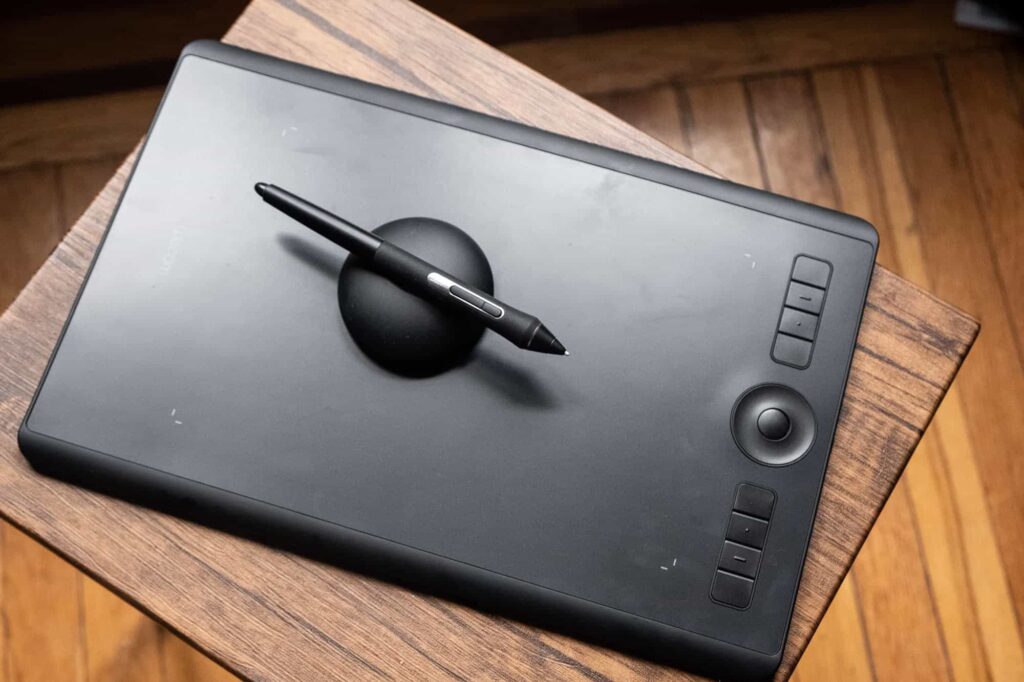 Wacom has been doing great in the market of tablets for a long time, they have great quality products with high prices and also at low prices. You will find multiple devices from Wacom in our list.
Pen Pressure Sensitivity – 8192 levels
Wacom Pro Pen 2 (battery-free)
Pen stand
4 extra pen color rings
Texture sheet sample card
2m (6.6ft) USB cable
Excellent pressure-sensitive
It is the most recommended device by professionals Drawing Tablets for Adobe Illustrator and also by us. Wacom Intuos Pro is a good option for artists and designers who completely want to work digitally from start to end.
---
2. Apple iPad Pro – Drawing Tablets for Adobe Illustrator
Apple iPad Pro 12.9 inch
The Apple iPad Pro 12.9 inch is the best tablet from apple so far, the best device for the designer. The only problem with the device is, it is pretty bulky and expensive other than that a perfect tablet from apple.
Active area drawing 10.32 x 7.74in
Pen Pressure Sensitivity – Not specified it is optional
Connectivity – Wi-Fi, Bluetooth, Lightning
Excellent Pressure Sensitivity
Great product in such price segment
OS – iPad OS 13.4
Faster than ever performance
The iPad Pro 2020 is the best option for the graphic designer with a bundle of features that will help you get astonishing results. The 2020 iPad Pro comes with ProMotion technology, which adjusts the display rate based on what you are doing and where you are using the iPad.
---
3. Huion Kamvas Pro – Drawing Tablets for Adobe Illustrator
HUION KAMVAS Pro 12 GT-116
The device comes with an IPS display of 1920 x 1080P resolution and a size of 11.6 inches. The Huion Kamvas device has a fully laminated screen to give the users a great viewing experience.
120% sRGB Gamut
Over 16.7 Million Display Color
FHD Resolution
Across 5080 LPI Pen Resolution
8192 Levels Pressure Sensitivity
The stylus supports plus 60° Tilt Support
The device includes a battery-free stylus with a high pressure sensitivity of 8192 level and an equally astonishing reporting rate. These two together will give you a highly-responsive user experience, and will allow you to get beautiful outputs.
---
4. 11 inch iPad Pro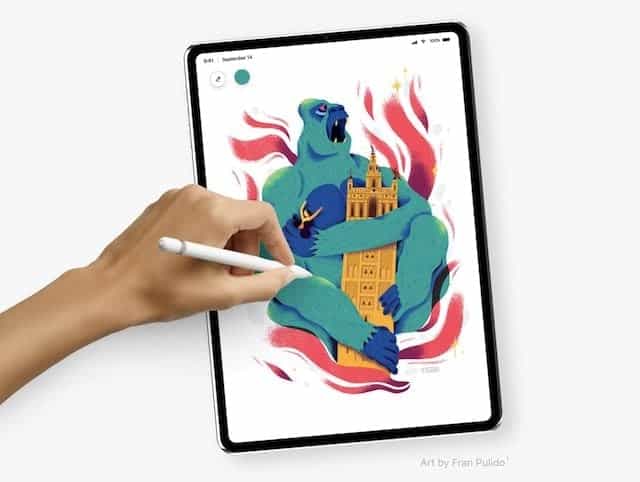 11 inch iPad Pro 2020
The Apple iPad Pro 11 inch is the exact copy of the 12.9 inch version, just with smaller screen size. A great device to have for graphic designing, and the Adobe Illustrator runs very smoothly in the device. The combination Adobe Illustrator and 11 inch iPad pro will just give you beautiful results.
iOS 13.4 and can be upgradable to iOS 14.4.
Apple GPU ( 8-core graphics)
1668 x 2388 pixels, (~265 ppi density)
A non-removable Li-Po fast charging.
Superfast 6GB ram
SSD storage options starting from 128GB up to 1TB
A solution to the problems of all the graphic designers, who are looking for a powerful and excellent device while having a handy solution. This device will give you everything you want from a tablet.
---
5. Wacom Cintiq 22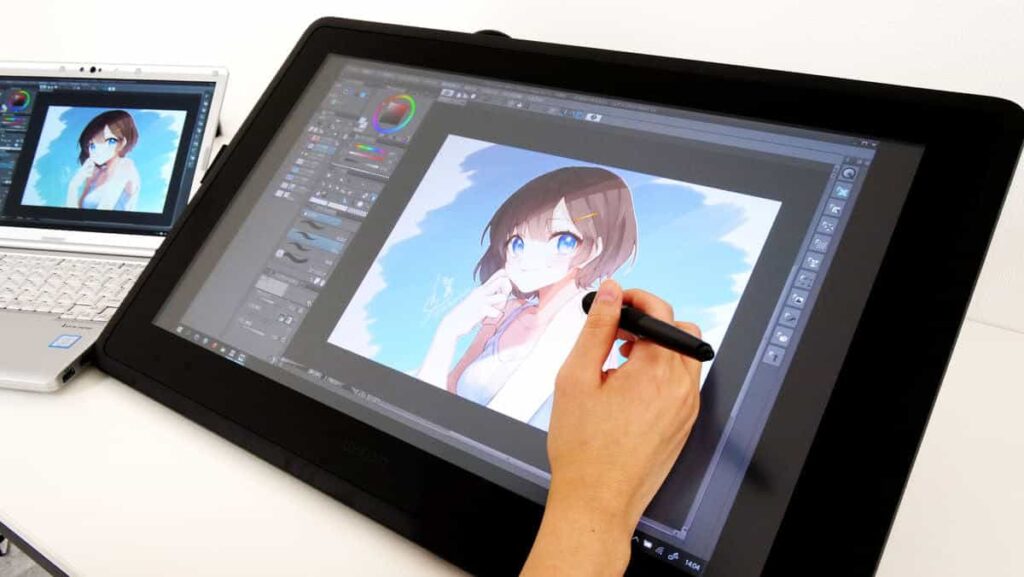 Wacom Cintiq 22
Wacom Cintiq 22 is a great device to have. It is a large tablet with a big display, and precise settings that make it a preferable device to many designers.
The Spacious workspace of 19.5 x 11.5 inches.
The lively 21.5 inches Full HD display has 16.7 million colors and provides great display experience to the users.
A big screen with very fast response time.
A high-class color coverage of 72% on adobe RGB.
The pen can be tilted to 40 degrees.
The Wacom Cintiq 22 is a very popular device especially among the beginners. The device has high-level sensitivity and comes with an anti-glare screen that lets you use the device anywhere without having any visibility issues.
---
6. Samsung Galaxy Tab S6
Samsung Galaxy Tab S6
After Apple, Samsung is the most chosen and valued company. The tablets from Samsung have great performance, durability, specification, and are budget-friendly. There is no doubt in choosing Samsung tablets, as they make great tablets at a low price.
Fast Performance
The device has a long-lasting battery life of 15 hours
Comes with a screen of 10.5-inch, resolution 2560 x 1600 Pixels
Customizable Button on S Pen
Comes with the OS Android 10
It comes with a storage of ranging between 6 GB | 8 GB
Samsung Galaxy S6 uses the Wacom technology for the palm rejection, pressure sensitivity, and other software optimization. The S6 model is a great mixture of Wacom and Samsung. Some may don't like the glass and plastic combination on screen, as sometimes it becomes difficult for detailing.
But the Galaxy S6 tab is a very fast processing tablet from Samsung, at such a low price. The Adobe Illustrator works very fast on the tablet, and also you create beautiful designs in no effort.
If you want a product from a trusted brand and at a low price then the Samsung Galaxy S6 is the best option for you.
---
Conclusion:
These are the best tablets for Adobe Illustrator as per our research, hope the information was helpful for you in deciding your best tablet.
If you want branded devices then iPad Pro 12.9 inch or the iPad Pro 11 inch is the best option as it is the best device Apple bought for you, and if you want it at a low price then the Samsung Galaxy S6 is the best option to go for.
If you are a beginner then Huion Kamvas Pro or the Wacom Intous pro will be the right device for you.
If you want a good device with extraordinary display, performance, spec then Wacom Cintiq 22 is the device for you.
Best Drawing Tablets for Adobe Illustrator India 2021
Wacom Intuos Pro ( Most Recommended )
Apple iPad Pro – Drawing Tablets for Adobe Illustrator
Huion Kamvas Pro – Drawing Tablets for Adobe Illustrator
11 inch iPad Pro
Wacom Cintiq 22
Samsung Galaxy Tab S6
You May Also Like:
10 Best Graphic Design Tools for Beginners
8 Best Free T-Shirt design Software India
10 Best News Plugin for WordPress India
Best Free 3D Design Software India 2021