Amazing graphic tools can really help you being more creative and it becomes more amazing when you get such software for free. These are best free graphic design software tools help you to convey your ideas to your audience more beautifully and effectively. One needs amazing tools to push boundaries. But choosing the right tool is not a piece of cake. Graphic design for any business is important because it enhance your Marketing efforts across various channels and helps you to build a professional looking brand. When your brand looks professional it is easily recoganized by audience and let your customers get familiar with the services that your company is offering.

The surprising part is that there are the best free graphic design software that are available with no cost. It is obvious that everyone wants top end tools but the reality is that when you start initially you try to save rather than spending. Off course there are many top notch softwares that are available in the market Adobe Creative cloud and many more. But remember the right combination of software will let you to do any kind of design job and while using the app you will realise that these tools are often easier to use. When you are a beginner you can polish your skills with these free softwares and then look for some complex softwares that are available in the market. You can use your graphics in your wordpress website using amazing plugins.
Here we have mentioned some of the best free graphic design software that are free as well as easier to use
1. SVG-Edit
If you are wanting to edit an already existing SVG file or want to quickly output SVG (Scalable Vector Graphics) is an open format that allows reproduce your vector drawings programmatically and one of the nicest project is SVG edit.
This is entirely built on HTML, CSS3 and JavaScript and it does not need any serverside processing. Using this software you can create and edit documents but as it's open source you can also modify and download the Code. You can your version of it if you want to. It is one of the best option that is available in the market.
2. InkScape
InkScape is applicable for platforms like windows, mac, OS, linux.
It is among the free options that are available and it focuses on the SVG format as it primary file format.
This highly capable editor has a very good SVG integration and it supports some of the advanced features which aren't available on many apps in the market.It has several features like cloned objects and markers, alpha blending and more.
It can be said that it is an alternative for illustrator for both web design and print with a simple interface for user convenience. Using this software it is possible to get some of the amazing art work.
3. Canva
Canva is applicable for the platforms like browser, IOS and Android. Apart from being an 'Image Editing Software' it has so many more features to it. It features a dedicated infographic maker with so many design elements and fonts that are available on your fingertips.
Loaded with other features too, like colour Palette tool, font combination picker, photo collage maker and learning resource and the best part is that maximum of its features are available in its free version.
It is not only laptop/desktop friendly but also can be used in mobile phones with a lot of ease that is you can do your work where ever you want to do it. Try this software and you surely will like it.
4. Pixlr
Pixlr is applicable for platforms like browser, IOS and Android. Over the period of time this software has changed a lot with alot many powerful features. It comes with browser based service with three features to choose from. If you are looking for a easy and quick photo editing tool then Pixlr is definitely for you. It is specially designed for easy edits and artistic effects for an instant visual boost. Its all free to use, however if you want more of this advanced features you can definitely check it's subscription options.
5. Paint.NET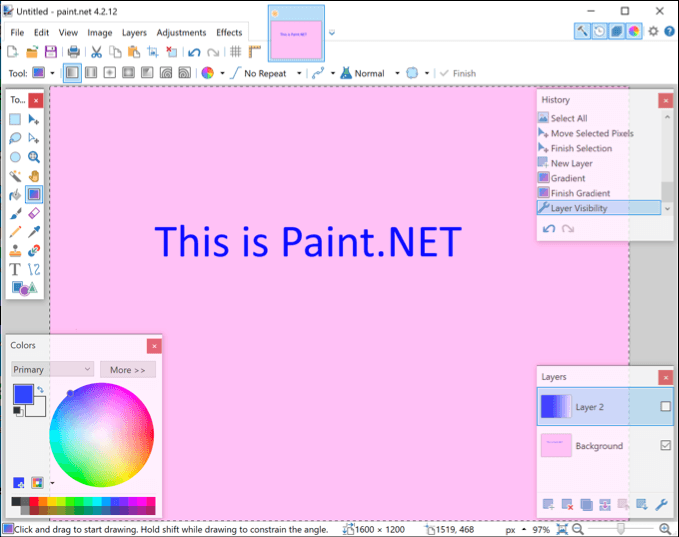 Paint.net is only applicable for windows. It is a windows based alternatives to the paint editor that Microsoft ships with different versions of windows. Its focuses more on photo editing rather than artistic creation. There is a range of special effects available that allows you to easily create fake perspective, tile and repeat selection and much more. It provides a range of selection tools, supports for layers and several adjusts like curves and brightness/contrast. This means that it is a great alternative to photoshop for photo editing.
Conclusion
As graphic design enhances your marketing efforts plus it is a key building of a professional brand. With amazing graphics in your online business website you can create strong impression of your brand on your viewer's mind. It not only helps you to convey your business message but also helps you to build trust in your customers mind. In the above paragraphs we have provided the best free graphic design software in 2021 that will surely going to help you to create amazing graphics
Want to learn about these software send us a request :- https://skgraphics.co.in/contact/