Webinar is a vital strategy which many businesses are opting to engage with their leads and taking them in their sales funnel. Covid 19 has pushed so many businesses those were operating in person into an virtual environments resulting more webinars, here we'll see top 5 webinar platforms in 2021.
There are many reasons why you should use webinars like you can reach people from anywhere in the world and you directly can interact with your audience
But, honestly it isn't easy to host a webinar and webinars don't guarantee any high conversion rates. Therefore we have analysed many things and are presenting Top 5 Webinar Platforms in 2921 for your convinience.
Before conducting a Webinar one should take care of these things :-
• Ease of users to download the join the meeting smoothly
.• A good internet stability.
• Creating an amazing waiting room experience for the users
.• Quality of audio, video, enabling chat on time.
•Number of viewers can join in a single time.
• Make sure you are clear with your webinar goals and objectives.
• Time of Marketing and value delivering.
Now let's dive into several webinar strategy that will blow your mind away
Always remember in a webinar your content is the king so try to deliver more relevant and targeted content to your audience.
•know your attendees i.e the kind of audience attending the webinar
•Not everyone who views your webinar will do it on the desktop so, try to make it mobile friendly.
•Try to provide as much value as you can so that it doesn't look salesy when you pitch the audience your product
•Be a great speaker, always remember you cannot upsell without having a persuasive tone.
•Try to pickup a time in which maximum of your target audience is available like any national holiday or weekend.
We have discussed alot about the basic requirements for the webinar as well as the strategy so now let's dive into top 5 webinar platforms that will help you in conducting a smooth and amazing webinar.
1.EverWebinar
With EverWebinar you can schedule and automate your webinars to play at set intervals plus this platform recreates a live experience for the users. It has several amazing features like•It automatically sets your webinar plays to different time zones, you just have to schedule things once.
•It has a block date feature which stops your webinar from playing on any desired date or holiday.
•It provides you with analytics feature in which you can check insights on the performance of your webinar strategy
2. Zoom
It's one of the most commonly and widely used webinar platform reason being it's easy to use and is free of cost however with time some researchers and journalists have scrutinized the app and found several security and privacy risks.Though it's parent company has denied about such allegations.
It has several features like
•It has one touch join to video calls feature.
• zoom rooms has a kiosk mode, which allows a virtual receptionist to greet employees from a zoom rooms for touch device.
3. Demio
Unlike many webinar platforms, which offer automated or live webinars, Demio offers both, as well as an option for hybrid mixes of pre-recorded and live recordings. It allows you to run interactive polls, launch offers with call to action buttons, share live document handouts, run Q&As and much more.
Loaded with bunch of good features :-
•Allow People to signup once for an ongoing series of webinars.
•It provides an insights into your webinar performance.
•It has a feature of automate replays of your webinar 
4. Webinar Jam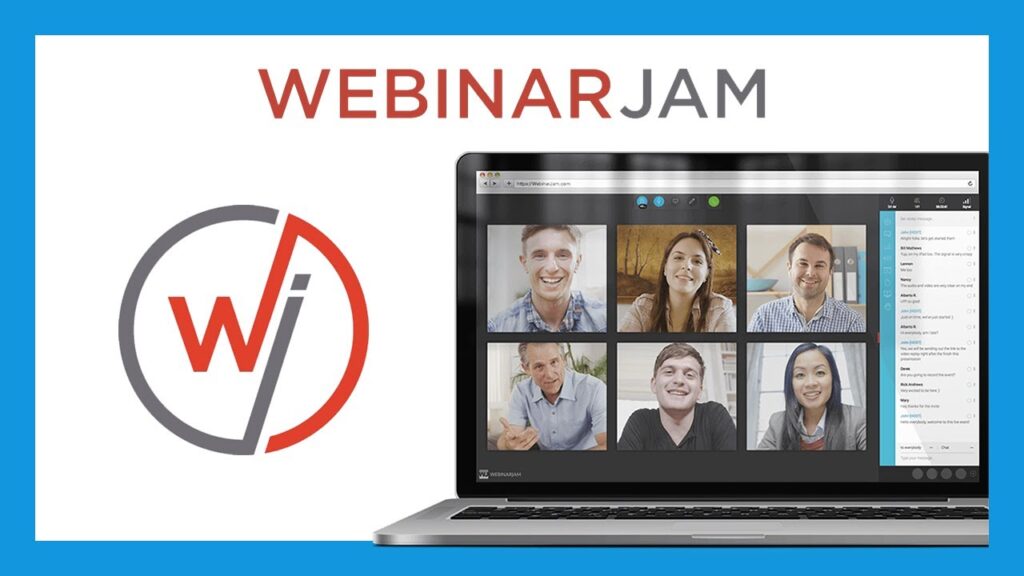 Webinar jam is developed by the creates of EverWebinar but the focus is on screening live webinars. It is only for live events so there is no automation or scheduling feature available in it. It has several other features like
• You can stream to Facebook live, YouTube live or WebinarJam's private JamCast broadcaster.
• Webinar jam also customizes your pages for brand consistency.
• It has presentation facility that is you can insert pre-recorded video into your webinar for work purposes.
•Webinar rooms are protected with password.
5. LiveStorm
LiveStorm is such platform that provides many options from online courses to demo webinars. It has an amazing user experience and the registration landing pages are designed beautifully. It integrates with some common marketing tools like Salesforce so it becomes easier for you to measure that how your webinar are performing. It's other features are as follows
•It tells users that the webinar is about to start, encouraging them to sign in on time
•You can schedule your webinar to replay at set times in a day
Conclusion
These are the best webinar platforms as per our research, we hope that the information was helpful in deciding the appropriate webinar platform for your business. 
If you want to automate the screening of your pre-recorded webinars and want to generate leads out of it then EverWebinar is for you. Having a small business with less budget, then go with zoom as it is economical and easy to use.
If you are a marketing team who wants a dedicated webinar tool with automated replays then Demio is for you. 
Want creative for your webinar